When we say that Bohemian Bull has a unique bar menu, we really mean it. We put a lot of effort into our cocktails, bourbons, and craft beers.
Most other restaurant franchise opportunities just offer mere staples and don't go any further. That may be fine for others, but at Bohemian Bull we bring our customers an experience they can't get anywhere else, and that starts with our menu.
Offering a bar menu unlike any other Restaurant Franchise Opportunity
At Bohemian Bull, we take immense pride in the wide selection of delicious options found within our bar menu.
We have offerings that cannot be found with any other bar franchise opportunity. It is just one of the reasons that our customers return to the Bohemian Bull Tavern & Beer Garden time and again.
Using inspiration from our local craft beer and spirits scene, we've been able to tailor our menu to capture trends we know residents and tourists alike will appreciate when they frequent a Bohemian Bull location.
This careful curation of our bar offerings, alongside our inspired food menu, is part of why many of our customers say they love coming to Bohemian Bull. For this reason, our bar menus are a point of pride.
The Four Pillars of a Successful Restaurant Franchise for Sale
Food and Drinks Customers Crave
At our flagship restaurant franchise in Charleston, SC, we wanted to capture the foodie spirit that makes Charleston a great place to dine out.
So we've made sure our authentic ingredients are incredibly fresh, sourcing them locally where possible. Our hand-spanked burgers are ground and shaped in-house.
Our craft beer and cocktails menu is extensive and always evolving. We've cultivated a menu full of delectable food and cocktails that keep our customers raving about Bohemian Bull.
Unparalleled Service
Hospitality is one of our core principles at every Bohemian Bull restaurant franchise for sale.
Many of our customers have praised our chill and relaxed atmosphere while still marveling at the prompt and welcoming service they receive.
Even when the restaurant and beer garden is packed, like when we're hosting events such as a cornhole tournament or live music, our service runs like clockwork.
The kitchen delivers orders in a timely manner, and our staff always brings hot food and cold drinks to our customers with a smile.
We consistently give people a great Bohemian Bull experience, whether it's their first visit or their fifteenth.
Cleanliness
We may be laid-back, but that doesn't mean we're slacking on safety and cleanliness. Now, more than ever, people are concerned about the spread of germs, the freshness of their seats and table when they sit down, and how clean the kitchen and bar areas are.
Every Bohemian Bull restaurant franchise for sale adheres to our stringent sanitation standards to make our guests feel welcome, comfortable, and safe.
We take great pride in how clean our bathrooms and other common areas are.
There is no job too trivial when it comes to keeping our Bohemian Bull restaurant franchises at the highest standards of freshness and cleanliness.
Welcoming Atmosphere
Every Bohemian Bull restaurant franchise for sale has an energy customers can feel when they walk in the door.
Every aspect of the decor, the staff, and the restaurant's vibe has been carefully crafted to appeal to our customers.
We've considered the lighting, the type of training for our staff, the seating both indoors and out, and everything else about the Bohemian Bull brand that makes our restaurant franchises desirable places to be.
We want our customers to feel at home, and so we've done everything we can to ensure they do.
At Bohemian Bull, the monetary return is only a portion of what we consider important to a successful franchise.
We have customers who call us their favorite restaurant, who return regularly, and who are excited about our expansion plans with restaurant franchises for sale.
They celebrate their milestones with us, create memories within our walls, and find reasons to come back just to enjoy the craveable menu and craft beer and cocktails.
These are testaments that we're doing something right.
Our Restaurant Franchise Attention to Craft Brew
There's nothing like kicking back with friends and a cold brew to make good memories and strengthen relationships.
We've built our craft beer menu to go with any occasion—live music in the beer garden, a seafood bake, or the big game.
We've got it all covered. Not many restaurant franchise opportunities can say they give as much attention to their beer menu as we do.
That's why we've carefully crafted the beer menu to celebrate all things brewed. Every month, we choose a Beer of the Month for our guests to try something they may have never had before.
Our menu is also divided into flavor profiles, like sour (wild) old ales, or wheat (lighter) fruity brews.
We also categorize IPAs, lagers, and stouts, so our customers can go right to what they're in the mood for. In this way, our menu is less overwhelming even with the number of choices we offer.
Every beer on our menu displays the brewing company and its location. Our guests know what's local and what's come to us from far-flung places.
We aim to offer the perfect selection of both local and global craft beers by rotating our menu regularly.
Most other restaurant franchise opportunities have stale and boring menu options. They fail to introduce new offerings and seasonal favorites.
We liven up the vibe by offering our guests the option to build their own flights with four out of our thirty-one draft beer flavors.
We love a creative beer menu, and we genuinely enjoy seeing what our guests choose to drink on their custom flights.
Bourbons and Whiskies are a Big Deal at our Restaurants
A well-aged bourbon or whisky may contain flavors as subtle as a fine wine.
A Bohemian Bull restaurant franchise opportunity takes advantage of these nuances by having a very well-rounded bourbon and whisky menu.
We curate our bourbons and whiskies with barrel tastings to bring our customers the best spirits we can find.
How does barrel tasting help us develop our menu?
Barrel aging changes the flavor of the spirit inside. A well-aged barrel of bourbon or whisky is something a Bohemian Bull restaurant franchise opportunity wants to celebrate.
The type of wood makes a big difference in barrel aging. Different flavor profiles seep into the spirit.
Woods can imbibe vanilla, smokey barbecue, peachy or coconut, or clove notes into the spirit, invoking a variety of different scents and flavors for the drinker.
Where the wood comes from makes a difference. American white oak makes up a majority of US barrels.
This barrel lends spirits a sweeter flavor. French oak has a tighter grain which produces spicier notes.
How the barrel is made affects the flavor, too. If the barrel is heated for charring the wood—using an open flame and more direct heat—the flavor is sweeter than the toasting method—less direct heat from a more even source.
Reactions during the aging process can impart differences into the spirit. Esters produce fruity or floral aromas.
Evaporation depletes how much spirit remains in the barrel. This is why a longer aging time produces more expensive results—there's less of the spirit remaining in the barrel.
Barrels aged in a more humid environment experience less evaporation than those matured in a dry environment.
Every Bohemian Bull restaurant franchise opportunity uses barrel tasting to determine which of our favorite spirits make it to the bourbon and whisky menu.
We love the tasting process because it helps us find our favorite spirits.
Once we choose a flavor to add to our menu, we have that spirit specially packaged for Bohemian Bull's bar. There is no other bourbon or whisky menu quite like ours.
This attention to detail, plus generous 1.5 oz pours, is how we have built a bourbon and whisky menu unlike any other available with other restaurant franchise opportunities. Our franchise model allows for personalization at each location, enabling franchise owners to incorporate local flavors and creativity into their restaurant, as well as engaging with the local community through trivia contests, live local music, oyster roasts, and themed event nights.
Do You Want to Be a Part of the Restaurant Franchise Opportunity that Elevates Drinks?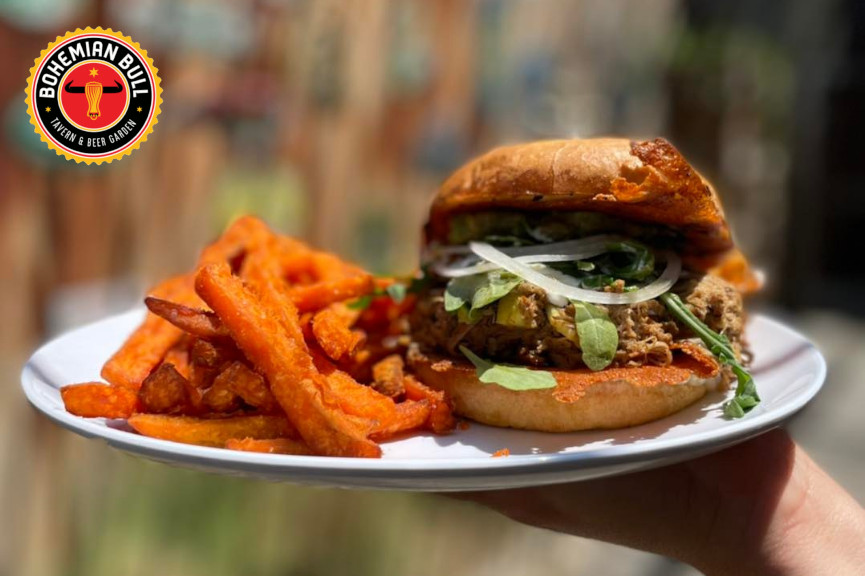 The drinks menus at Bohemian Bull are full of inspiration. Our customers love to come in and experience it.
They see how much attention and care goes into the drinks, and they know they'll get a quality brew no matter which they choose.
Crave-worthy food, unparalleled choice in beers and spirits, and a lively vibe that celebrates good friends and good times—these are the Bohemian Bull staples that keep our customers happy and loyal.
If building a career in this type of environment sounds like something you'd thrive in, then consider making an investment in a Bohemian Bull restaurant franchise.
We're looking for passionate owners/operators who have a head for business and know a good restaurant franchising opportunity when they see one.
If this sounds like you, contact us today to learn more information about owning your own Bohemian Bull franchise.
The Cost of our restaurant Franchise Opportunity
The initial investment estimates for a Bohemian Bull franchise range from $508,000 to $1,206,500, including a $50,000 franchise fee.
The investment covers various expenses such as training, location lease, utilities, signage, furniture, equipment, permits, licensing, insurance, inventory, software, technology, and marketing.
Our Restaurant Franchise Support System
Our restaurant franchise provides extensive support to franchise owners, such as advice on site location and leasing, training on daily operations and customer service standards, guidance on securing permits and licenses, and access to selected software and technology for inventory, POS systems, payroll, and accounting. Also expert advice on site selection and leasing, location, and build-out, staff selection, and building vendor relationships.
Also, the restaurant franchise model allows for flexibility in menu and decor, catering to the local community and culture, such as incorporating university colors in a college town or featuring local seafood dishes in coastal areas.