It's been a rollercoaster few years for restaurateurs. Many people investing in gastropub franchises are doing a significant amount of due diligence before making the final decision on which franchise to choose.
Despite the uncertain times, Bohemian Bull has added gastropub franchise locations. How?
Two things:
A bohemian vibe that gives our guests a relaxing, fun-filled atmosphere where they're instantly at home and can enjoy making memories over crave-worthy foods and incredible craft beers, bourbons, and whiskies
A gastropub franchise concept backed by an experienced franchise development team that helps franchisees bring their Bohemian Bull location to life with authenticity and spirit
A Better Burger at a Bohemian Bull Gastropub Franchise
When we say crave-worthy food, we mean it, down to the last detail. At Bohemian Bull, we leave no ingredient behind when it comes to flavor and sourcing.
The perfect example of this is how we create our burgers. Despite only having a few ingredients—patty, bun, toppings, cheese (optional)—the burger is one of the most versatile items in any kitchen.
It Starts at the Source
The patty makes or breaks a great burger, so it's the be-all and end-all of our top-notch offering at Bohemian Bull gastropub franchises. We start with Certified Angus beef, which has the best marbling for juicy, flavorful burger patties. Even cooked at higher temps, this beef is premium quality that's passed our rigorous standards.
Then We Perfect the Cuts
Certified Angus beef describes the quality of meat overall, but we make improvements even from there by choosing stand-out cuts from the cow. Our burgers are a blend of brisket and chuck for a perfect ratio of lean-to-fat that makes the flavor of our patties literally sizzle.
Enter the Freshness
We said perfect lean-to-fat ratio, and we meant it. At Bohemian Bull American gastropub franchises, we coarse-grind our Certified Angus beef brisket and chuck together daily in-house. We know without a doubt it's done right for a meaty, full-bodied burger full of Bohemian Bull deliciousness.
It's the ideal quality, texture, flavor, and juiciness before we've even set the patty on the grill.
Speaking of Grilling…
We never pre-cook our burgers to save time like some gastropub franchises. All our patties are grilled fresh-to-order so they're the juiciest, most flavorful they can be. Our flat-top grill seals in those important juices while cooking evenly with precision heat. This achieves the Maillard reaction—that signature flavor of all browned meats achieved by the chemical reaction between amino acids and reduced sugars.
Top That!
Well, okay. Challenge accepted! Bohemian Bull burgers are topped with the best and freshest toppings we can offer. From classics like lettuce, tomato, and pickles, to those with a twist, like bacon jam, bleu cheese, and pepper jack pimento cheese—we top our burgers like we mean business. Because we do!
The Bohemian Bull Gastropub Franchise Menu is Well-Considered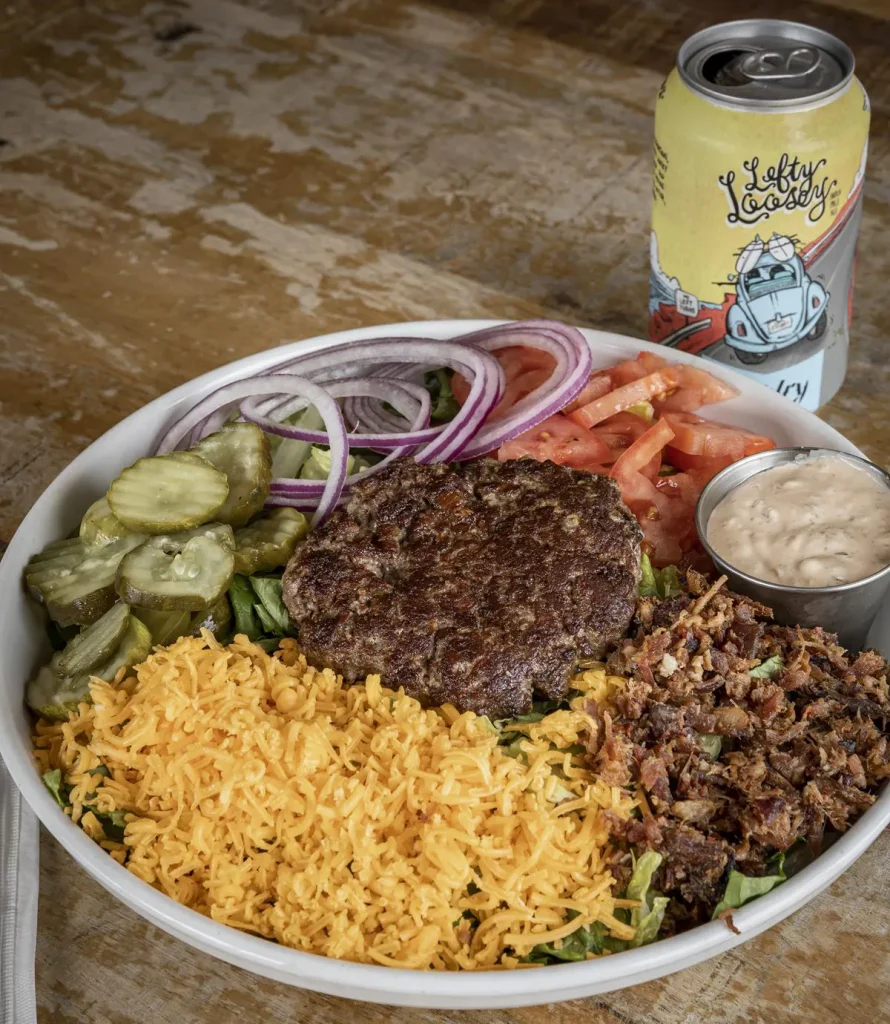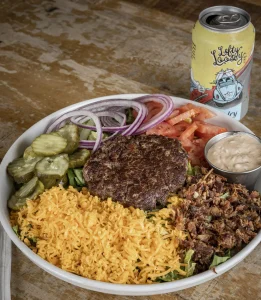 We point that high level of attention to our entire menu, drinks included. However, at Bohemian Bull, we love to put a twist on our menu items.
Our guests will recognize many staples, including some of America's most popular comfort foods, like Mac n Cheese or the Reuben. We also have favorites to cater to those looking for something not-so-usual, like our take on the Cuban sandwich or Black Bean Burger.
Each of these items begins with the beloved ingredients you know, but we've put our Bohemian spin on them to make them our own while keeping them familiar enough that they'll still hit that sweet spot that satisfies a craving.
Our Mac n Cheese is a cheesy, melty appetizer with a crispy twist—lightly fried balls served with truffle mayo.
The Reuben begins with braising our corned beef in Guinness to keep it tender while adding a layer of flavor Bohemian-style.
Our signature Bar-B-Cuban substitutes smoked pulled pork rather than roasted slices of pork to go with the ham, pickles, mustard, and Swiss cheese. It's a little kick of Southern spin on a beautiful sandwich.
The Hippie Black Bean Burger is a pleaser for people who subscribe to all types of diets, not just vegetarians, with sharp ingredients like pickled red onions and juicy tomatoes. We also top it with a garlicky crema that rings along our guests' taste buds.
These are the details that give a gastropub business its resonance among guests, and its reason to attract loyal and repeat customers. At Bohemian Bull, we've developed a menu that keeps 'em coming.
The State of the Gastropub Franchise Industry: Casual Dining Makes a Comeback
Casual dining is making a comeback. Since 2021, 8.4% of Americans are getting back into restaurants after the uncertainty of the 2020 pandemic. Life is returning mostly to normal, and people are eager to resume a favorite pastime: eating out.
The National Restaurant Association predicted restaurant sales in 2022 would grow 12.4% from 2021, for a total of $898 billion. Stats are still being compiled to know if we hit the mark, but they look promising.
Today's diners want to dine in. 48% of Americans are dining out once a week or more. Interestingly, this same report found that 45% of restaurant diners are only somewhat deterred by rising menu prices. This suggests that increasing costs are noted, but aren't enough to stop people from enjoying themselves at the restaurants to which they're loyal.
The Bohemian Bull Gastropub Franchise Investment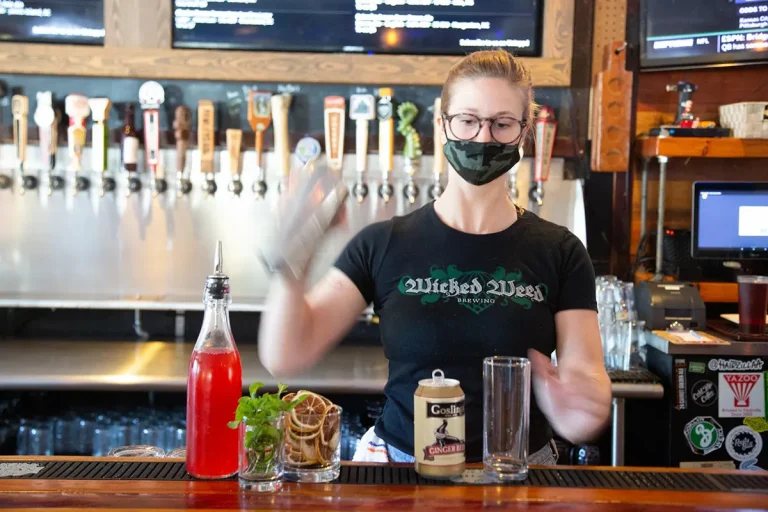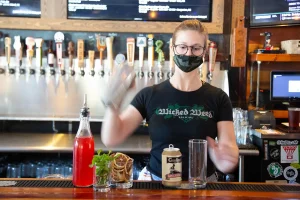 Before we considered offering our restaurant concept to others as a gastropub franchise investment, the founders of Bohemian Bull worked closely with franchise industry experts to perfect our tavern and beer garden.
We did this to ensure that our program would be not only attractive to prospective franchisees but would be a smooth operation from start to finish.
It's the only way to build a mutually collaborative relationship between us and our franchise owners that benefits us all for a gastropub franchise that truly flourishes.
Potential franchisees can expect an initial investment range of between $470,417 and $1,206,500 to open their Bohemian Bull gastropub business. This includes the $50,000 franchise fee.
Receive Full Support For Your Gastropub Franchise
What you get back includes:
Extensive training
Guidance on location and lease and build-out
Design guidance, including signage, furniture, and equipment
Pre-opening development, including insurance, permits, licensing, utilities, and inventory building
Grand Opening Marketing
Software and Technology
Ongoing support beyond Grand Opening
At Bohemian Bull, our roots are an important part of the passion that drives us, and we never want to lose sight of the sense of pride we feel in our brand and our franchise owners.
We're like family, and we'll continue building that bond throughout your gastropub franchise journey as we let the spirit of our feel-good vibe lead the way. If our soul for food and passion for our gastropub experience moves you, we can't wait to hear from you!