There's nothing quite like the feeling of sipping a cold drink surrounded by the people you care about. Making memories, eating crave-able food in a feel-good open atmosphere; now, that's what Bohemian Bull has always been about.
Our flagship restaurant franchise was inspired by the culture and lifestyle of Charleston, and since our grand opening a few years back, Bohemian Bull has been a smash hit with locals. They know that if they want to relax, sit back and watch a game, or get a masterfully prepared burger made with quality ingredients, Bohemian Bull is the best spot in town.
But now, we are putting something different on the menu by offering restaurant franchise opportunities to hungry entrepreneurs. Now, you can bring Bohemian Bull to your neck of the woods and create the perfect haven for people who love good drinks and even better times.
We have worked closely with franchise industry experts in perfecting our bar and restaurant franchise model before offering our opportunity to the public. What we've learned is that franchising is ultimately a collaborative effort between two parties who are striving to create a mutually beneficial relationship.
Our goal is to continue to provide you with the resources and expertise needed to sail smoothly through your onboarding, grand opening, and beyond. Before you know it, you'll be in a personalized Bohemian Bull of your own, watching a crowd of happy faces enjoy the product of our mutual efforts. It's a rewarding experience, and we can't wait to live it out with you!
If you have any questions at all about Bohemian Bull, our start, or the process of joining our bar franchise network, feel free to contact a member of our team today! We look forward to speaking with you!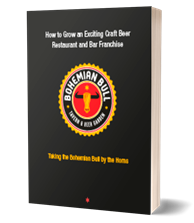 Are you Ready to Join Us?
Download our E-book and Learn How to Grow an Exciting Craft Beer Restaurant and Bar Franchise