Your Journey to Open a Craft Beer Restaurant and Bar Franchise with The Bohemian Bull
If you've ever thought about starting a beer restaurant and bar business on your own, then you're probably well aware of all the steps involved to perfect your launch. As a restaurant business owner, navigating red tape and hiring the people is tough, but franchising makes it easier, and Bohemian Bull has perfected our process.
We worked alongside a global leader in restaurant franchise opportunities, to put together a timeline that is thorough so we address every detail. Here's how Bohemian Bull will help you open a craft beer restaurant and bar franchise of your very own:
If you're interested in becoming a Bohemian Bull franchisee, the first step is to fill out a quick form. Once we've received this form, a member of our Franchise Development team will reach out to schedule our first call.
Step 2. Introductory Phone Call
Now that we know you're interested, we'll want to take 15 minutes to talk to you about your interest in opening a beer garden franchise. If you think it's still a good fit, and our Franchise Development Manager feels the same, we will send you a follow-up email with some information to review before we continue the process.
Step 3. Candidate Qualification
We want to make sure that our partnership is a good match, so we'll want to hear more about your goals, management style, industry experience, and of course, financial and credit qualifications. If we feel like it's worthwhile to continue the conversation, we will begin the next steps; this is where the real fun begins!
Step 4. Brand Introduction Webinar
Your webinar experience will be an excellent opportunity to learn about the Bohemian Brand. We'll go over some of the finer details about opening an American restaurant and bar franchise with our team, such as:
And if you have any questions about any of the information, feel free to ask away during our interactive Q&A with Bohemian Bull franchise development executives and team members.
Step 5. Franchise Disclosure Document Review
You've made it this far into the process, and you sound like a great fit for us, and us for you! Now what? It's time for you to review our restaurant franchise disclosure document. We will have you sign for receipt of this document on the day you receive it and answer any questions you may have.
Step 6. Franchisee Application
Next, we will send you our Franchisee Application to fill out and return to our executive team for review. If your application is reviewed and approved, you will be invited to meet the complete executive leadership team, including the company founder and corporate training team members. They will be your main points of contact regarding restaurant launch and operations.
Step 7. Executive Leadership Call
This is the final step of franchisee selection and your chance to make a great impression with the top-level executive team at Bohemian Bull, and hopefully, their chance to make a great impression upon you as well! Our bar franchise team wants to see you succeed, so picking the right franchisee is critical. Before approving your Franchisee Application, our executive team will be involved in hand-selecting our great franchisees.
Congratulations! You've been selected to be a franchisee with The Bohemian Bull! Our executive leadership and franchise development team member will call to congratulate you on your awarded territory and schedule the next steps! Before you attend  Discovery Day and our ceremonial Franchise Agreement Signing, a Franchise Agreement will be sent for your review.
Getting to the Grand Opening of Your Beer Garden Franchise
Step 1. Discovery Day & Franchise Agreement Signing
You will now be invited to fly in and attend a signing ceremony, a wonderful Discovery Day where you will meet all key players involved in founding, building, growing our brand. You will also have a chance to check out the first Bohemian Bull location and have a nice dinner to celebrate!
Step 2. Real Estate Selection
Location is everything when you start a restaurant and beer bar business, so we want to help. Our development team utilizes cutting-edge analysis tools to help focus your site search. We'll factor in criteria like demographics, traffic patterns, visibility, and more to determine just where to open a craft beer restaurant and bar franchise.
Step 3. Site Construction
Whether you are moving into an already existing space or starting your tavern business from scratch, we will help you make it unique. Making your Bohemian Bull stand out from the crowd with its eclectic vibe is our specialty!
Step 4. Training and Development
Learning our processes is an essential step to set you up for success. You and your team will be invited to our corporate restaurant opportunity to go through thorough training, so you're confident to open a beer garden franchise.
Our team of trainers will come to help you train new staff and make sure the grand opening of your Bohemian Bull is flawless. Our beer garden franchise will help you market the restaurant franchise to help generate foot traffic for your big day.
Step 6. Ongoing Training and Support
We want to make sure that you feel comfortable in your new restaurant and bar franchise business today and tomorrow. We'll help you with marketing, operations, additional training, and more, so you're always prepared for success.
Do you want to learn more about what it takes to open an American restaurant franchise opportunity? Take the first step to starting a beer garden franchise business venture and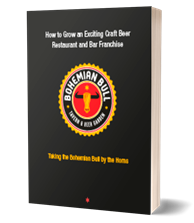 Are you Ready to Join Us?
Download our E-book and Learn How to Grow an Exciting Restaurant and Bar Franchise